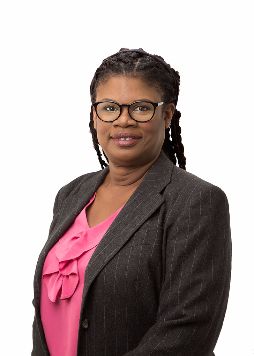 Civil Society Representative from Soroptimist International of St. Augustine.
Jacqueline Morris is an experienced tertiary educator, researcher, educational technologist, and instructional designer, whose focus is on the intersection of the Internet and Learning. She currently is the e-learning manager at the Judiciary of Trinidad and Tobago.
During her many years of service as a teacher-educator at the University of Trinidad and Tobago, she taught students in the fields of Education Technology and Instructional Design, at the Centre for Education Programmes. She has also lectured at the UTT in Process Engineering and at the UWI in Management Information Systems and Technology in Tourism. Her current research interests focus on online learning strategies, processes, and the psychology of online teaching and learning. She can also get her hands dirty with regard to creating online content, having also worked for multimedia production and live video projection firm. While there she directed and edited many multiple-camera live concert video productions, and has worked with names like John Legend, Rihanna, Lionel Richie, NeYo, Beenie Man, Shakira, Diana Ross, and Machel Montano. She is a Certified Moodle Educator, and a certified Microsoft Innovative Educator.
In 2003 she was appointed by the Secretary-General of the UN to a global panel of experts on Internet Governance. Since then, she has been active in the fields of Internet Governance and ICT policy and has held several positions in International Policy organisations such as ICANN. She is currently the Policy Chair for the Non-Profit Constituency at ICANN. , and the Vice-Chair of the local Chapter of the Internet Society. She was recently voted in as a Director of the TTMAG.
She also currently sits as a Director on the Board of the National ICT Company of Trinidad and Tobago (iGovTT).